Rick Tocchet
, former Philadelphia Flyers hockey player, was sentenced to two years probation for involvement in a sports betting ring, according to
an AP story published in the New York Daily News
. Tocchet faced a maximum possible term of five years in prison.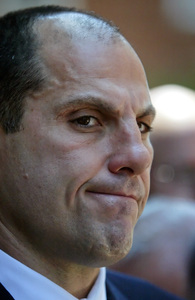 Tocchet reached a plea deal with prosecutors. He was charged with participating in a gambling ring with New Jersey State Trooper James Harney and with James Ulmer of Swedesboro, NJ. The ring dealt with bets totaling millions of dollars. Harney, no longer with the police force, was recently sentenced to five years in prison. Ullmer was sentenced last week to two years probation, according
to Sports Illustrated
.